Did you know the easiest way to avoid a Meniere's attack is by simple shifts in lifestyle?
A Meniere's Diagnosis can be a terrifying roller coaster ride. It seems like everything you do will trigger an attack. Without a cure, we're stuck with doing what they tell us - avoid caffeine and salt, lower stress.

But how do you lower stress? What do you do after you've already given up everything you love?

There's actually a way to do lifestyle changes that get your life back. First you need to know it's not about avoiding or hiding.

Knowing how to eat, how to sleep, how to reduce anxiety is more than just avoiding things: It's taking small steps from a simple knowledge of four building blocks.

We can't go back to the way things were. We must create a new life.

Here you'll find out exactly how to make those changes without adding any extra fear.
---
​A good quality of life is about a simple understanding of 4 essential building blocks:
---
---
---
---
---
---
These statements (appearing on this Web site) have not been evaluated by the Food and Drug Administration. They are not intended to diagnose, treat, cure or prevent any disease.


​

Powered by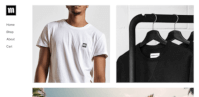 Create your own unique website with customizable templates.