With our own authority, armed with the right information, we can help our body feel much better tomorrow than it does today, by serving it's functions at the core, where new research says diseases originate - because of misfiring biological processes.

Think beyond the ABC's.

Have you heard how powerful anti-inflammatories, antioxidants, and adaptogens are? Do you know what they do and why we need them?

Today I'm going to de-mystify these 3 powerhouses and explain why they may be the most important medicines in your cabinet.

What are Anti-inflammatories?

When your knee swells after you bump it, the swelling you feel is inflammation. It's what heals the scrape.

Inside our body, inflammation removes harmful agents, like toxins (fungus, pesticides in our food, air pollution).

If there's a high toxic load, there is a lot of inflammation trying to get them out.

Too much inflammation means our body is in a state of chaos. Diseases are born this way.

Your doctor may not bring it up, but trust me, inflammation is contributing to your symptoms.

Anti-inflammatories reduce inflammation.

In the Meniere's world where it seems anything can trigger an attack, it makes things a lot easier to consider one thing (lowering inflammation) than it is to consider many things (processed foods and sodas and coffee).

An anti-inflammatory diet and vitamins/nutrients/supplements that reduce inflammation cut down on the triggers we have to count.

Here's where to find them (there are also many more).

Tumeric
Ginger (also good for nausea)
Green Tea
Shitake Mushrooms
Phytochemicals -- these are natural chemicals found in plant foods - when you see this word in your supplement ingredients, you have an anti-inflammatory you can take. Make sure they're organic.
Broccoli, cauliflower, sweet potato.
Spinach (it has Vitamin A, B2, B6, C, E, K, calcium, folate, iron, magnesium, manganese potassium, tryptophan (amino acid that help produce protein) - good stuff in spinach.
Omega 3

A good diet and supplement handles the anti-inflammatory issue for you, without you having to take a ton of pills every day.

Pastas, white bread, and non-organic milk increase inflammation. Just sayin.

Water is a natural anti-inflammatory :)

Now when you see a fast food hamburger, instead of counting calories, fat content or salt, think about toxicity and inflammation. Also - foods that are low in sodium, fat and calories can still add to our toxic load and inflammation (like artificial sweeteners).

By the way - lots of people are linking Meniere's Disease (along with Lupus, diabetes, cancer) as an auto-immune disease. That means the body is attacking itself (inflammation gone wild).

It's a lot easier to get another autoimmune disease when you already have one. The body is already misfiring.

You can do something about this.

Antioxidants

Our body is made up of molecules (I know, sounds crazy). Molecules have electrons. They lose them because of toxic damage, unhealthy lifestyle, and metabolic processes.

When molecules lose electrons, they steal them from the others.

This stealing of electrons causes a chain reaction between molecules, as they fight each other to become stable. This fighting causes chaos in the body, which leads to disease.

A free radical is an unstable molecule grasping for an electron. It's reactive and needy. That's why health professionals tell us free radicals are bad.

What antioxidants do is hand over these valuable electrons without becoming unstable like the angry molecules. It's like in the movies where the scientist hands over the antidote, curing everybody of a mad condition.

Antioxidants calm down our molecules so they can do what they need to do, like moving fluids properly.

There are an estimated 200 or more diseases related to free radical damage.

Free radicals also cause inflammation. Why? Because the body uses inflammation to remove any substance (or angry molecule) that's not good for it. The body is a beautiful machine.

Here's where antioxidants hang out -

Glutathione is the Cadillac of antioxidants. A glutathione molecule can connect to a toxin directly and escort it to the bowels, never to be heard from again. Our body makes it, and we can help make sure we have enough of it it by eating garlic, onions, broccoli, kale, collards, cabbage, cauliflower, watercress. Organic undenatured whey protein is a great source for glutathione.
Beta carotene, vitamine E, vitamin C are antioxidants.
Grape seed extract, resveratrol, bioflavenoids - look for these in your supplements.
Blueberries (high in phytonutrients), blackberries, cranberries, goji berries, strawberries and raspberries. The body likes the berries.

Buy organic! It's hard to wash away pesticides.

Adaptogens

Adaptogens are smart little herbs that increase the body's ability to adapt to change, stress and fatigue.

They keep us calm in stressful situations and give us energy when we're tired. They fight fatique, depression, and stress. They calm intense and overwhelming feelings. Sounds attractive, right?

They give you a soothing feeling of acceptance and interest in engagement, help in focus.

They boost the immune system and reduce allergy and inflammation. A lot of people see reduced allergies after taking adaptogens. I did.

If you think your Meniere's symptoms are related to allergy (i.e., inflammation), you'll want to get hooked up with some good adaptogens.

They also detoxify the body.

Adaptogens are plant derivatives. Ginseng is a well-known adaptogen. There's also Rosea, reishi (Ganoderma lucidum), licorice root, Aswagandha, goji, blueberries, strawberries (buy organic!), ginger. There's lots more, too.

What do you do with all this information?

It starts with a slight shift in mindset - it's about how you're managing inflammation as much as it is the list of alphabet vitamins on the label. It's what's underneath the hood, so to speak.

It's about what these things will do for you, why you're taking them.

Most people go out an buy a multi vitamin from the grocery store, take it, and don't notice any benefits. Then they assume that good nutrition and supplements don't work.

And then they miss out on the feeling of physical and emotional well-being that's found in real, organic, high-potency nutrition.

If you're not feeling remarkably healthy from your diet and supplements, there's a potency issue or they're not organic, or they're derived from scary sources. Food should be fresh, supplements should be derived from food.

A note on doctors:

It's good to find a doctor that's open to holistic health, like a wellness doctor, to help balance pharmaceutical meds and nutritional supplements. Then talk to your ENT about troublesome symptoms. Together, they can find solutions you may not have believed possible before.
Powered by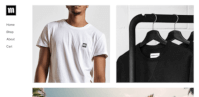 Create your own unique website with customizable templates.