I don't know about you, but sometimes I just don't feel like shooting the shit. After a long camping trip when everyone's in close quarters for a few days, people are quiet on the ride home. Now somebody in that car's going to get their feelings hurt because nobody's talking to them. Strange, huh?


One time, a German friend asked me "If a stranger asks me how I'm doing, do they really care about how I'm doing?"

Well, no.


You may think I'm crazy, but our language has a negative connotation to words we use when we want to move ahead in life. Words like discipline and commitment.

See if this sounds familiar:

"I need to watch my salt content but I lack discipline." "I really need to work out every day, I wish I had motivation".

I looked up the word discipline on dictionary.com, and I found words like regimen, military, drill, correction, punishment.

How does this sound:

"Hey I started a new training regimen. I'll have punishment inflicted on myself for correction if I don't do it right."

If you're good in school, you're a nerd; if you're in shape, people say "I wish I had your motivation". Discipline has a reputation for something those "other" people do. Something we can't do, because we lack discipline, need motivation, don't know how to commit.


Powered by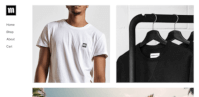 Create your own unique website with customizable templates.