From the day we get back from our diagnosis of Meniere's disease we all begin on a journey.

I coach and help people navigate this journey - the doctors, family relationships, good health. What's most important to you on this journey, and how to live the best part of yourself according to your own goals.

One of the most important things I've learned and what I coach people to do, is to be aware of what kind of signals you get by what you watch, by the people you spend time with, by books you read.

You see, all of us are walking around with one of these two strong beliefs:



One of the biggest challenges with us Meniere's sufferers is feeling like we are not as good as we used to be, and not as good as other people.

Society teaches us to feel this way by saying things like "survival of the fittest", "faster is better", "the strong survive".

So that when we think about creating a lifestyle that we like and want, it's really easy to get tangled up into feeling like we'll never get what we want.

None of this is true.


Powered by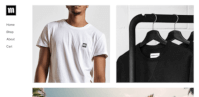 Create your own unique website with customizable templates.