I don't know about you, but sometimes I just don't feel like shooting the shit. After a long camping trip when everyone's in close quarters for a few days, people are quiet on the ride home. Now somebody in that car's going to get their feelings hurt because nobody's talking to them. Strange, huh?


One time, a German friend asked me "If a stranger asks me how I'm doing, do they really care about how I'm doing?"

Well, no.



How we tell each other we're ok

Here in America, small talk lets us know we're accepted. There's response testing going back and forth - do you like me, am I ok - yes I approve and like, are we cool?

If you run into someone you know and you don't say anything, they'll probably get mad.

" Hey I ran into so-and-so, they didn't say anything. Is he/she mad at me? "

This person (you and I do it too) will filter through the last ten things you said to each other, trying to find out why you're mad. This will last until the next time they see you. He or she will be a little more reserved.

Good feelings good, bad feelings bad.

There are socially-approved emotions (good guys) and unwelcome emotions (bad guys). It's not good to express anger, judgement, sorrow, jealousy, sadness, quietness - in public. It is ok to show happiness, acceptance, friendliness.

People understand and accept happiness, it signals acceptance, the thing we all need.

Think of what we say to ourselves to change our mood, so we won't make a bad impression: "Get over it. There's no reason to be upset." "Just let it go".

Think of how much energy it takes. If we can't force ourselves to be happy and we can't fake it, we feel guilty.

This is all ok, we're social creatures, except for this:

Forced happiness causes repression

and stress

It's not that happiness is wrong. It's just, I notice how we hurt ourselves to prove to others we're ok. We push down emotions that won't be accepted.

If we learned to do this a long time ago, there's a big bag of hidden fears in the closet. They're fears because at one time they were considered unwanted and repressed, and now they hang out in there, abandoned and gaining friction.

They change from palpable feelings to vague anxiety and panic attacks.

They make us sick. They trigger Meniere's attacks. They stop us from forming healthy relationships. But by themselves, they're not so bad. They just need a little attention.

For me, there came a time when I had to learn to feel the feelings I wasn't "allowed" to feel. It was scary at first.

There's a new game in town

Those of us who have Meniere's Disease can go ahead and stop pleasing people. We have approval from the doctor. Yep, from now on, we come first.

Ever seen those people who say anything they want, and everybody loved them? You know, the ones who aren't afraid of hurting someone's feelings. They say it like it is.

Now it's our turn.

Ever been with people you can be yourself around, don't have to perform?

There's this allowing thing with these people. It is like it is, we are who we are, that's it. I'm saying that now and I immediately relax. Feels good.

We can let our moods come as they come, and feel them, get to know them. And be cool with them. They've been shafted, hidden, for too long.

Forget about that making-others-happy thing. Never worked anyway. The new cool is respect for ourselves first. After that comes respect from others - they can feel our confidence and respond.

And now for a cool tip

When I had dizzy spells in public, I became the good listener. People like to be heard.

Plus I didn't have to say much.

Here's one from my Bro'

If someone asks how you're doing, and you're good, say "I'm doing great".

If they ask, and you feel sad, angry, bad, say "I'm hangin' in there".

If you're undecided, say "waitin' to see how things turn out", or "The jury's still out".

Try to do this with a straight face. Now you know the secret.

If you're in the mood to chat, leave a comment. If you're in a quiet mood, enjoy your own space.

Cheers.
Powered by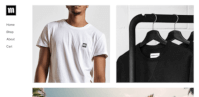 Create your own unique website with customizable templates.