I have a friend of mine who identifies the worrying, planning, and problem-solving of living as "marbles".

We need marbles for work, home life, maintaining health. When they're used up, when there's no more physical or emotional power to cope with life, we've run out of marbles.

It takes so much for us Meniere's sufferers to do what other people consider simple tasks. It seems like all our energy is spent making sure we're ok so that we can function.

Wouldn't it be nice if it was all easier?

This post is to help you get your marbles back.



Have a health program that simplifies cooking and eating.

I've had times when I didn't have food around when a dizzy spell hit. I'd go a few days without eating because I couldn't cook or shop.

Then I felt weak for another few days while I tried to catch up on my nutrition. The worry about getting weak and tired added to the fear of a dizzy attack, and I was freaked out most of my time.

Find a way to put down good nutrients when you don't feel well. Know how you're going to handle food, water, and cooking when you're down. You'll recover a lot faster, and you'll cut down on the fear of what's going to happen to you if a dizzy spell comes.

Here are some ideas:

Organic fruits and vegetables give energy without you having to cook. Plus they're easy to eat if you don't have an appetite. Have them handy.
Juice up some of those organic fruits and vegetables. Put some ginger in the juice, it reduces nausea, and it's a powerful ani-inflammatory. That way you get the fuel to keep you strong during and after the attack. It takes away the fear that you're slowly dying from malnutrition. Mindset is everything :)
There are very good nutrition shakes out there. Loss of appetite stops us from eating, but with these you can get them down when you can't eat other foods. They're also low in sodium. When you feel better and you want to cook, you can enjoy it, without having to cook when you feel off.
You can also have cooked chicken breasts or a protein bar handy so all you have to do is grab it and take a bite.
If you need to, you can put a small fridge next to your bed that has water, fresh organic juice, and a protein bar, so you don't even have to get up to keep your fluids and energy going.

A plan always makes things easier.

Find a working balance with sodium, water, and food.

If I don't have my usual amount of water for a few of days, I'll have a dizzy spell. I also know how far I can push the sodium, when it's safe to go out to eat.

That's because I know where my home base is. You find it by starting with a water/sodium level, then listening to your body for how it feels. Are you tired? A diet that's too low in sodium could be the problem.

An increase in dizzy spells could mean you need more water, not just less sodium. Remove processed foods until you feel right.

When you feel good consistently, you know you've found your own special balance. Now you can control what and when you eat and drink, knowing that you can always return to what you know works. No more feeling like we're powerless.

See these articles for a starting point on

water

and

sodium

.

When you feel good, relax a little on the schedule, and when you feel bad, go back to home base. Your body tells you what it needs. Listen to it.

Say no more often.

Disease brings out guilt. We feel like we're not good enough, or we're bad because we're not well enough, not available like other people are.

So we overcompensate when we don't have to. Being more "nice" than we feel, saying yes to appointments and activities we don't really want to do and don't really matter to us or our family's well-being.

If you take these little moments away from your life by saying no to them, life gets a lot easier real fast. And it builds confidence and self-respect:

Make a list of what's important to you and your family, and stop doing all the extra stuff that isn't on that list. "Is this thing I'm thinking of doing on the list? No? Well then, I'm not doing it." Feel the power.
Take all the extra crap off the worry plate. Now there's room for the good life.

Give up fighting.

Knowing how to handle the down times gives you acceptance of the disease. Acceptance is power. The more power you have, the easier life is.

With acceptance comes a special way of not fighting it. Get into flowing with whatever happens, and bring your tools and knowledge to it.

Life gets real easy when we accept (with power) the crappy stuff that happens to us.

Play more.

A fun life is an easy life. Make a deal: "The first thing that happens when this dizzy spell is over is to get into this thing I really love doing."

If it happens that you have an attack on Sunday, and it's over on Monday, but you have to work, call in sick and play. You've earned it.

Most people go through life following the rules and things people tell us is right. But things are different for us. We can't win on the same terms as other people. That's why we change the rules.

I found all this out the hard way. I hope what I have here helps you win in your world.

If it does, tell me how in the comments below.
Powered by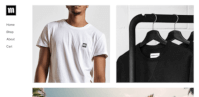 Create your own unique website with customizable templates.