While Neil Armstrong and Buzz Aldrin made the first manned landing on the lunar surface, Michael Collins orbited the moon for 21 hours 31 minutes.

Who we heard about the most, who we watched on TV, were those two men who walked on the surface. But what about Collins, the first in the world to circle the moon for that solitary 21 and a half hours? Did he feel lonely? Did he wonder what people at home would say?

Would any attempt at understanding him touch the magnitude of his experience?

We all have our own special experiences nobody will understand. They're just for us.

Today I'm going to show you how people form opinions of each other. When you see why they don't seem to understand us Meniere's sufferers (and why it doesn't have anything to do with us), you'll walk away from the hurt caused by the stigma of this disease.

This post is to give you the power to live in your own orbit.

This is how it works:




We are what we do.

Our self image reshapes itself to become the person who does the things we do. Maybe you were an accountant before, and now you want to learn how to write.

One who tells stories is a story-teller.

One day you'll be talking to someone and you'll use new words like the story tellers and writers you love and study. People come to see you as a writer. They even forget you used to be an accountant. They now come to you for new advice.

We become what we are doing when nobody's looking.

There's magic in this. Why?

Because the one who used to be dependent and scared can become brave and wise, just by taking different actions.

And the actions we take reflect to those around us.

Now dig this:

People believe we are who we say

we are.

If Batman suddenly starts wearing a bat suit and is now fighting crime, he's not a scared little child anymore. He's a superhero.

The world believes what we show them.

If we see ourselves as diseased, dependent, depressed, someone to feel sorry for, people will see us as someone to feel sorry for.

They will respond with pity, not understanding.

If we are bigger than ourselves, know how to make difficult decisions, unstoppable, then people want to hang out with us because we're strong and attractive:

"Hey see how Mary just does her thing even though it's hard. I respect her. I would like to be stronger in my life, too."

A strong orbit influences other orbits to be strong too.

You are the next right action

You're not the diseased has-been. You're not the one with the crappy job. You're not the one who needs more time. Neither am I.

We are the next right action.

You are the next decision you make that's in your favor.

That's what you show to the world, and the world believes you are that person. And they're right. That's all.

We're falsely believing that we're alone because no one understands us.

But being understood has nothing to do with powerful experience.

Just ask Michael Collins.
Powered by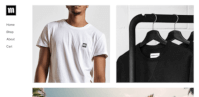 Create your own unique website with customizable templates.