From the day we get back from our diagnosis of Meniere's disease we all begin on a journey.

I coach and help people navigate this journey - the doctors, family relationships, good health. What's most important to you on this journey, and how to live the best part of yourself according to your own goals.

One of the most important things I've learned and what I coach people to do, is to be aware of what kind of signals you get by what you watch, by the people you spend time with, by books you read.

You see, all of us are walking around with one of these two strong beliefs:



"No matter hard I try, someone or something will always beat me."

or:

"Average people can do great things".

I remember when I first got home with my diagnosis.

I was so depressed. The only thing I wanted to do was stay in bed and watch movies.

The movies I chose were about people who had been picked on or had bad things happen.

It made me feel like I wasn't the only one who had something bad happen to them.

Needless to say, I was alone a whole lot during this time.

How willing do you think I was to go out and do things like walk in the park, or spend any time contributing to a relationship, watching these kinds of movies?

Most news and movies and television shows are sending us signals that life is about people doing wrong to other people, and that we don't have any control to help ourselves.

One evening you watch three things on the news showing people as victims and on the way to bed you're thinking about your Meniere's Disease from the perspective of a victim.

Which interrupts any desire to act on your own behalf.

Garbage in, garbage out.

But not everything does this.

A lot of movies and stories are about people and even animals who go through difficult circumstances and win anyway.

A lot of times there's somebody in these movies you wouldn't even think of as a hero.

They don't necessarily look strong from the outside. A lot of times these heroes are even made fun of by other people.

Spider Man, Bat Man, Lord of the Rings - all of these movies have average people in them who were called on to do great things after something big happened to them.

And that big something called out the hero from within.

You can find people being called to a heroes journey from real life too, from biographies about real people like Abraham Lincoln and Mother Teresa.

When you read about these people you realize that average people can do great things.

When you are going about your day thinking about what you want for dinner say, way back behind your thoughts in your subconscious, other thoughts are happening.

These thoughts way back in your mind are repeating back to you things that you feed it through what you watch on TV, what you believe.

So that whether or not you'll get up and experience another day in your life depends not on how much willpower you have, but what movie you watched the night before.

Remember the last time you watched a movie that made you want to go out and conquer the world?

I'm seeing a lot of Meniere's sufferers who think it takes a bunch of hard work to create a lifestyle for yourself that's worth living. That it takes a whole lot of discipline.

But all it really takes is a tiny decision of what you watch on tv and what you're going to allow yourself to believe.

It's really about respecting what your outside influences are doing to you - YOU, this person you care about and believe worthy of the best in this world.

If you can really understand what I'm saying today, you are a whole lot more ahead of almost every other person in the world, including all those "normal" people that don't have a medical condition to worry about.

You are the Meniere's Hero.
Powered by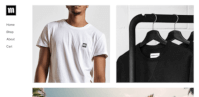 Create your own unique website with customizable templates.