My Meniere's Journey
The first 2 years after I was diagnosed I was barely out of bed. I was struggling through 3-4 episodes a week. Those were just the big ones. I had other kinds of fluctuations I couldn't even categorize that created terror all day long.
​
​
I was incapacitated by this fear.
The only time I left my apartment was when I was forced to go to work, because I was afraid I would become homeless. The most I could do to get food was to walk across the street to the convenience store and get a jar of peanut butter.
I kept thinking that if I could manage the anxiety and I knew how to feed myself, surely I would start to feel better. So in the times when I felt well enough, I researched and tested foods and how to think and feel.
I asked questions like: "How do I find safe foods that not only keep sodium levels right, but give me extra energy?" "How do I keep my mind right when people around me are stressful?" "What do I do when I feel anxiety and depression?"
Over time I learned where the anxiety comes from and what to do about it. I learned about nutrition so I could feed myself at home and also when I was with other people. This gave me control over every part of my physical and emotional well-being.
After a couple of years of being confident I could take classes, I went to coaching school so I could help other people regain control over their lives.
One More Thing
People live their lives in desperation with Meniere's Disease. We're told only 2 things about it: that there's no cure and we need to eliminate sodium.

In reality there are many things we can do to get control over Meniere's Disease and get back to a place where we are there for ourselves and our families - and not just trapped in anxiety and suffering.

You can do this.​
If you want more help, daily inspiration, and support on how to manage Meniere's
The emotional side of Meniere's - the psychological, spiritual, mental, personal way this thing affects us isn't talked about enough.

It can feel like we are solving a huge problem all by ourselves.

If it would help you - I send out daily emails to my list for support, inspiration, and how to think about successful management of Meniere's.

They come each morning before you wake up, to remind you that you are not alone.

​If you want this, just put your email in the box below.


Remember that Meniere's is just a name for a collection of symptoms.

​You can do this!


---
Powered by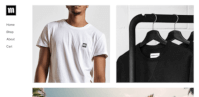 Create your own unique website with customizable templates.