Managing Sodium with Meniere's Disease
A lot of people, when they get Meniere's Disease, think that we have to stick to a painful, rigid dogma of salt-counting. I know because I went through it. Awful.
The truth is that sometimes we lean toward too much sodium, and sometimes we lean toward not enough. That's ok, we have a life to live, and we can make small shifts in direction to get us where we need to go. We're good sailors.
Here's how you make the whole salt-counting thing easier.
How much salt should I have?
Meniere's people can have between 1500 and 2000 mg of salt per day.
Pick around 1500-1800 as a range to stay in. Then split it between 2 or 3 meals (stay under just a bit to allow for snacks and an occasional beer :)
Don't go down to 1000 mg. It does scary things to your body.
How you make it easy
The trick is to push the most nutrition with the lowest sodium.
For breakfast, you could eat fruit in the morning. Fresh fruit. Frozen and canned produce don't have any "food" left in them.
That leaves lunch, dinner, and snacks to split up the salt allowance.
If you have a juicer, fresh juice is great for nutrients, low on salt. Fresh juice gives a lot of energy, and it's easy to drink - no cooking!
Salads are great. Make them big - eggs, some cheese, lots of different kinds of vegetables. With around 750 mg, you can have a great meal, and pack a good nutritional punch. There should also be enough room for some dressing.
Btw - "light" salad dressings usually have more salt than the regular kind. That's cool, because real food tastes better anyway.
A friend of mine makes an awesome meal-salad. She puts lettuce, carrots, cheese, raisins (or those cranberry raisins), raw almonds, raw sunflower seeds, tomatoes, eggs, turkey/chicken. Sounds good, right?
The trick is to stay with a basic plan, then let it change a bit if you feel good and want to try increasing the daily sodium level. Or lower it. Or drink more water. Make small changes 'till you're where you want to be. Then you know how far you can go before you feel bad.
And give yourself a treat every now and then. If you go out to eat one day, drink more water and have a little less sodium the next day.
The water and sodium balancing act is about staying pretty consistent (not dogmatic) with the amount of sodium and the amount of water. It's the huge fluctuations that cause problems. I write more about that
here.
Low-salt Snacking
There are a lot of low-salt snacks, like chips and crackers. These are good, but they don't have much nutrition. A common problem with Meniere's sufferers is that good nutrition is sacrificed for a low-sodium diet. That adds to stress, fatigue, and more dizzy spells.
Have these, but not all the time. Throw in some organic (please!) carrots and hummus during the week.
Raw nuts and unsalted raisins/craisins are tasty and keep your energy up.
Buy Organic
There are pesticides in produce that don't come off with washing. Pesticides add to your toxic load. The more toxins, the more disturbances there are in the body.
If you can't buy organic, buy produce with a skin - oranges, avocados, cucumbers - they're safer to eat.
Here's some foods to stay away from
Pizza
Fast food
Bacon/sausage/pepparoni/ham
Canned soup
Boillon/chicken broth, sauces - check the label, it's easy to forget there's sodium in there
Fresh hamburger, fish and chicken on their own are pretty low in sodium. You can have home made burgers, just watch the seasoning.
What can I season with?
At my grocery store there's this little container with 5 different kinds of seasoning - garlic, onion, etc, but no salt. Look for these, they make the food taste good without salt.
You can also find salt-free mixes of very good seasoning at spice shops.
Here's the USDA guide for salt content in foods
This USDA salt content guide has just about every food, and It's alphabetical.
The thing about guides is, they're just guides. They're not the law. What they do for us is give an idea of salt content (what's really high, what's really low) so you can find stuff you like to eat and stay in the right salt range.
Here it is:
http://www.nal.usda.gov/fnic/foodcomp/Data/SR18/nutrlist/sr18a307.pdf
You can do this!
You don't have to get bogged down with all the details of a low-salt lifestyle. Start with a simple plan, know what range you want to try for, and change it according to how you're feeling.
The whole game is being in tune with what your body needs. It's like being a good sailor. It's not about going in a strait line. It's about adjusting left when the ship's too far right, and moving right when you're veering left.
In calm seas, play.
---
Powered by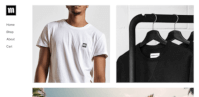 Create your own unique website with customizable templates.